Cancelled!
Thursday, June 27, 2019 | 6:30-8:30PM | Passing on With Property
Strategies To Manage Property After You Lose A Loved One
Thursday, June 27, 2019 | 6:30-8:30PM
Community Venue – 708 Annette Street, Unit 2, Toronto (Free street parking nearby)
Free Event  | RSVP Required
Sign up on Eventbrite: bit.ly/PassingOnWithProperty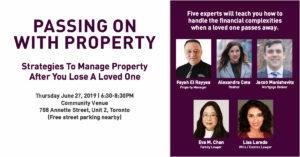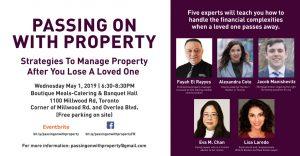 April 10, 2019  |  Ontario Bar Association
Guest presenter
Closed to the public
March 21, 6-8:30pm |  Designing a Peaceful Passing
Learn how to plan a positive experience and the obstacles that can arise either with your present Will or when planning your first Will. Find out how to create a smooth transition avoiding chaos for the people you love.
Open to the public, seats are limited.
Please RSVP to lslaredo@laredolaw.ca  
1100 Millwood Road, Toronto
March 18, 2019  |  Lunch sponsor for The Estates Group
Closed to the public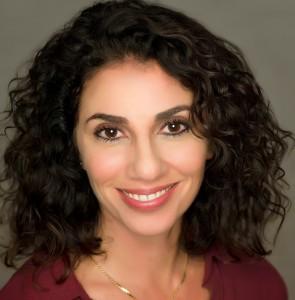 LISA LAREDO
PRINCIPAL
Principal at Laredo Law, Lisa Laredo obtained her LL.B, Law from the University of Windsor after graduating from York University with a BA in Political Science.
Lisa Laredo, Principal at Laredo Law, is a popular public speaker who loves sharing her passion for helping Ontario residents navigate the legal system pertaining to Wills, Estates, and Real Estate law.
Her professionalism, deep understanding of these key topics as well as her empathy leave audiences educated, engaged and motivated to take the next step to ensure their family and loved ones are looked after with a proper Will and Estate plan.
Lisa is open to guest appearances on radio, TV, podcasts and webinars as well as live speaking opportunities either as a solo presenter or as part of a panel. Please contact lslaredo@laredolaw.ca for further information.
SEE LISA LAREDO ON ADVOCATE DAILY
Lisa Laredo
Have you been named the executor but your not a family member?  Being executor of an estate can be [...]
Lisa Laredo
You've written a will — great! But when was the last time you reviewed it? If you don't know [...]
Lisa Laredo
Rule number one when writing your will: always ask your chosen executor before appointing them if they're willing to [...]
Lisa Laredo
Many say that moms hold the family together. They love their kids unconditionally, often take them wherever they need [...]
Lisa Laredo
A family member or close friend passes away and amidst your grief you discover that you have been named [...]
Lisa Laredo
For most of us, spring cleaning means a chance to declutter, downsize and simplify. It's about new beginnings and [...]
Our personalized and responsive counsel is always tailored specifically to ensure we hear what you need and we help you to make the best possible legal decisions.